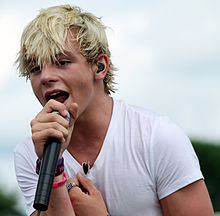 Chapstick & Crazy Charges
is a fantasy
episode. It's about Austin getting charged with singing publicly in his swimsuit, which is oddly illegal in the state of Florida.
Austin Moon
Ally Dawson
Trish de la Rosa
Dez Fisher
Megan
Minor Cast
Edit
Mike and Mimi Moon
Policeman
Judge Tamara
Defense Attorney (Curt Richman)
Prosecuting Attorney
Trish books Austin a gig at the beach. For a beach-like theme, Austin performs in his swimshirt and swimsuit. The following evening, a policeman shows up at Austin's front door. He reveals that in Florida it is illegal to perform in public wearing a bathing suit. Austin and his parents think this is crazy, and his dad demands a quick trial and a good attorney. They are given those, but Austin is worried he will lose the case.
Dez buys a popular chapstick out of curiousity. He puts it on his lips, and loves the flavor. He discovers that he is severly allergic and his lips break out in hives that are so big, he is not able to talk.
Transcript
Edit
To view Chapstick & Crazy Charges transcript, click here.
Ad blocker interference detected!
Wikia is a free-to-use site that makes money from advertising. We have a modified experience for viewers using ad blockers

Wikia is not accessible if you've made further modifications. Remove the custom ad blocker rule(s) and the page will load as expected.