Drama and Desisions is the second episode of season 3 Austin and Ally
"Drama and Desisions"

Season 3, Episode 2

[[Image:{{{image}}}|center|230px]]
Information
Production code
Writer(s)

Meerkat11

Director

Meerkat11

Episode Guide
Previous
Next
Miss Burnett, the drama teacher writes a romance play called "The Heaven's Key", and wants her class to be in it, Ally plays Rosie, the main character and Trish plays shop customer 1.Dez spills lemonade on Ally's script so she visits Miss Burnett's house to get another copy. Ally then asks Austin to watch it, He agrees when Yvonne, Austin's ex crush walks in and asks him to take her to a new movie. He walks out, forgetting about the play.
Ally becomes upset, but confides in Trish who urges her to perform. Watched by Dez, Ally performs. Meanwhile, Austin asks Yvonne out, she says yes, but then he remembers the play. He rushes there at once and apoligises to Ally. He breaks up with Yvonne but hopes they can remain friends. Ally, Trish and Yvonne become best friends.
Raini Rodiriguez as Trish De la Rosa
Calum Worthy as Dez
Maggie Q as Miss Burnett
Meritt Patterson as Yvonne Battesby
​ Trivia 
Edit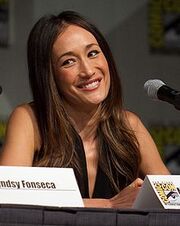 Ad blocker interference detected!
Wikia is a free-to-use site that makes money from advertising. We have a modified experience for viewers using ad blockers

Wikia is not accessible if you've made further modifications. Remove the custom ad blocker rule(s) and the page will load as expected.