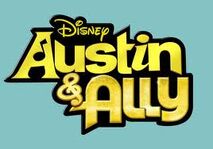 Partners & Pride is the 11th episode of season 4.
Ally bets that Austin can not write a good song with out Ally, so Austin decides to work with Trish on his new song to prove Ally wrong, but then Ally needs help writing one of her songs so the only one left to help her is Dez.   
Ross Lynch as Austin Moon
Laura Marano as Ally Dawson
Calum Worthy as Dez
Raini Rodiriguez as Trish De La Rosa
Special Guest Star:
Edit
Robin Williams as Mayor Thomas
This is the first time Ally & Dez wrote a song and also the same with Austin & Trish.
Robin Williams will be a special guest star for this episode.
The next episode will be Ignorant & Fixing.
Ad blocker interference detected!
Wikia is a free-to-use site that makes money from advertising. We have a modified experience for viewers using ad blockers

Wikia is not accessible if you've made further modifications. Remove the custom ad blocker rule(s) and the page will load as expected.