Yvonne Battersby is a reoccuring character in Austin and Ally.
Yvonne Battersby
Gender
Female
Age
17
Nationality
American
Hometown
Miami, Florida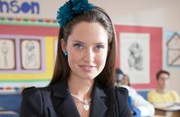 Character
Edit
Yvonne is a bright, bubbly individual with a great personality. She has long brown hair, blue eyes and a bright pink hairband.
Appearances
Edit
Drama and Desisions - First appearance
Perfection and Pasadena - Travels with the gang to Pasadena.
Matresses and Monsters - Helped by Ally and Trish to get to know Duncan Minouge by dressing up as the Specter of Miami.
Drain-Disasters and Kung-Fu Masters - Evacuates the Mall with Ally and Trish.
​Relationships
Edit
Ally Dawson
Edit
Yvonne has a good relationship with Ally, along with Trish, they are best friends.
Yvonne loves hanging out with Trish. Yvonne, Ally and Trish are best friends.
​Austin Moon
Edit
Austin had a crush on Yvonne and got together but decided to stay as friends.
Yvonne loves Dez and thinks he's quirky.
Yvonne seems to dislike her brother but loves him really.
​Fred and Sandra
Edit
Yvonne adores her parents but do get on her nerves sometimes.
Ad blocker interference detected!
Wikia is a free-to-use site that makes money from advertising. We have a modified experience for viewers using ad blockers

Wikia is not accessible if you've made further modifications. Remove the custom ad blocker rule(s) and the page will load as expected.